Licensed. Certified. Professional.
Reliable Home Inspections in East Hillsborough County, FL
Corey Richardson has been working in the construction industry his entire life. His parents are owners of a construction company in North Carolina. Corey was active in supporting his parents' business where he learned how to build and renovate houses at an early age. His dedication to educating himself, knowledge from learned experience, keen observation skills and attention to detail contribute to what makes being a home inspector successful. These early experiences and his passion for safe housing have given Corey the skillset to confidently start Safeline Home Inspections.
As the owner and lead home inspector for Safeline Home Inspections, Corey has become certified with multiple associations including, FABI and InterNACHI. He is a Registered Professional with both associations and continues to be a member in good standings. Corey has been performing home inspection for over 8 years and has performed over 3000 home inspections across the Tampa Bay area. He is familiar with the challenges many families have faced as they look to purchase a new home in this area and is here to support you.
Corey is known for being detail oriented and invested in his work. He is committed to excellence, and values answering questions in a way that is easy to understand. If you have questions during your home inspection, he welcomes your participation and wants you to be included in the process. He loves taking his time and answering your questions.
Our Home Inspection Services
The
Best Modern Report
in the Industry​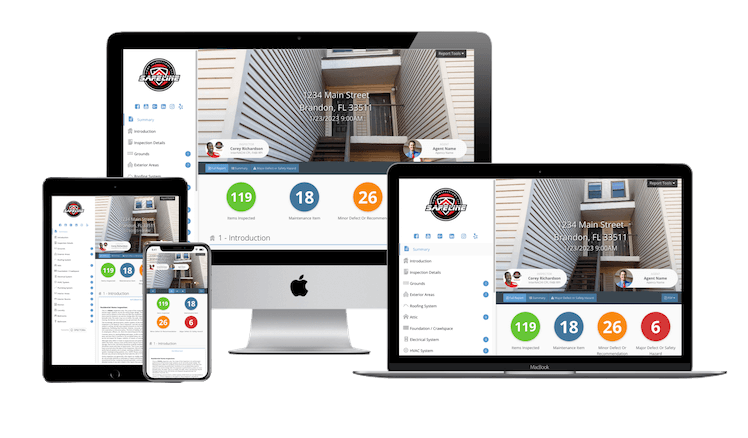 While Safeline Home Inspections encourages our clients to walk through the home with us, we understand that you may be too busy, and may not have time to do so.
Regardless of whether or not you attend the inspection, we will compile a comprehensive Spectora report, which includes all of the information you need to determine the condition of the home.
We will deliver our report within 24 hours of the conclusion of your home inspection, so that you can quickly access a full overview of our findings – and discuss them with us and your agent.
Check Out Our Testimonials
I highly recommend this company!I have been using Corey for all my property inspection. He is very detailed oriented and professional. I will keep using him as my inspector!
Corey was super awesome & he did a super professional and thorough inspection. I will definitely recommend to everyone I know & anyone reading these reviews! Safeline inspections was the best choice and I am so happy I chose this company! Also a super good price for the work that was done.
All our inspectors are InterNACHI certified and dedicated to doing the best possible inspection for you. We service Hillsborough county and the surrounding areas.
Book an inspection online and save $25 off your home inspection!​