Four Point Inspections in East Hillsborough County, FL
GET THE RIGHT INSURANCE COVERAGE FOR YOUR NEXT HOME
Our Four Point Inspection Process
Do you need a 4-Point Inspection?
Our four-point inspection focuses on the following four significant parts of your home:
HVAC
Electrical
Plumbing
Roof
Once the inspection is complete, our four-point inspection service based in Brandon, Riverview and Valrico, FL will provide you and your insurance company with an in-depth report of our findings.
For more information about our inspection services, contact us today.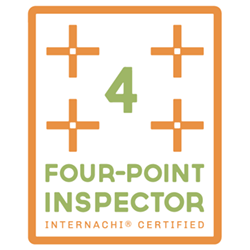 What is a 4-Point Inspection?
A four point inspection is an inspection that only focuses on the four areas of your home that are covered on a basic home insurance policy. These systems are:
HVAC System (Heating, Ventilation, and Air Conditioning)
Electrical Systems
Plumbing Systems
Roofing System

A four point inspection reports on the suspected age, condition, and functionality of these systems.
A four pont inspection will usually be needed by the insurance companies before they will provide coverage on housed over 25 to 30 years old. If you are not sure if your house will need a four point inspection, ask your insurance agent. They will be able to tell you if your insurance company requires one or not. If you get a 4 point inspection it us valid for only one year. If you switch policies or file any claims you may need to get new one performed after that.
While all of the information that is on a four point inspection report will also be found on a general home inspection report. It is important to understand that a four point inspection is not the same as a general home inspection report. Insurance companies only want to be informed about specific items covered by their policies and do not want all of the additional information that would be found on the general home inspection report.
While it is not possible to fail a general home inspection it is possible to fail a four point inspection. If a four point reveals major decencies in any of the four systems reported it is highly likely that insurance companies will not want to insure that property until all defective system are repaired. This is the reason that most insurance companies will not require a four point inspection on houses less than 25 year old. It is assumed that the systems on newer houses are still in fair condition.

Trust Safeline Home Inspections LLC with your four point inspection and to adequately and thoroughly evaluate the state of your next home. If you get a general home inspection and also require a four point inspection that four point inspection will be discounted to $50. Call today for more information and to schedule your appointment.
SCHEDULE YOUR FOUR-POINT INSPECTION IN BRANDON, RIVERVIEW AND VALRICO, FL
If you're seeking a home insurance policy for a home that's more than 25 years old, insurance companies might be wary of signing you up. Older homes are more likely to require significant repairs. To get an understanding of the condition of your home, your insurance company might require you to get a four-point inspection.

If you're in need of a four-point inspection in the Brandon, Riverview, Valrico, or Tampa area, choose Safeline Home Inspections. We're familiar with the insurance process, and will make the process as simple as possible for you
As soon as I arrived for my inspection Corey was already there (punctuality points!). He had come bearing gifts to make the inspection comfortable for me. As I sat down I was able to enjoy some cold water & treats. Corey was diligent in explaining things before, during, & after the inspection. You can tell from start that Corey takes great pride not just in presentation but thoroughness of his work. His work ethic spoke volumes. Even before leaving he went through the house with me showing me the few things he had on the list & provided the list to me to send to the builder for fixing. I would recommend Safelife Home Inspections, LLC to all my family & friends. Thanks for everything Corey, I feel such assurance moving forward with my home purchase after your inspection.